At NEMO Chiropractic, we take great pride in providing the finest chiropractic wellness care to our patients. Below is a sampling of the different chiropractic services we offer in our Clarence office.
---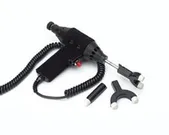 Chiropractic Care
We provide spinal correction utilizing gentle chiropractic techniques. Never in the history of chiropractic have we been able to provide the level of help and expertise that now exists. These newer correction methods are even safer, more comfortable and more effective than ever before. As a Doctor of Chiropractic, Bryce Johnston has years of training and experience in spinal adjustment.
---
Soft Tissue Therapy
What is soft tissue therapy? Soft tissue therapy is an adjunctive therapy that addresses the muscular components of pain. At NEMO chiropractic we will address soft tissue complaints with 3 different modalities: percussor, pin and stretch techniques and instrument assisted soft tissue techniques using the FAKTR method. http://functionalsofttissue.com/
---

Acupuncture
Acupuncture is a traditional Chinese medicine procedure that is used to promote natural healing and whole body wellness for over two thousand years. This is done by treating certain points of meridians on specific parts of the body that are clinically indicated. Dr. Johnston has achieved his 100 Hour certification and is certified and accredited by the Missouri Chiropractic Board.
Learn More...
---
DABCI – Diplomate of the American Board of Chiropractic Internists
DABCI Nutritional therapy is an important component of overall health and wellness. At NEMO chiropractic lab interpretations can be done to see what needs to be done to achieve/maintain overall health and wellness. For more information please see link. http://aca-cdid.com/what_is_dabci.php http://prohealthseminars.com/ Dr. Johnston is a DABCI and is able to provide these services to his patients.
---

Selective Functional Movement Assessment (SFMA) Evaluation
Selective functional movement assessment is an assessment that addresses abnormal movement patterns caused by pain and injury. This assessment can potentially give answers on how injuries occur and how to keep injuries away. Ideal for the active/ athletic population. Dr. Johnston is a certified practicioner for this evaluation. Here is a link for more information: https://www.functionalmovement.com/system/sfma

---

Applied Kinesiology
This is a diagnostic system that uses manual muscle testing to help come to a more precise diagnosis of what the problem is. This system looks to see what treatments are needed including chiropractic manipulation, Soft tissue therapy, acupuncture, cranial sacral therapy, reflexology, and many more. Dr. Johnston is currently working on his diplomate in applied kinesiology. For more information please see link: http://www.icakusa.com/what-is-ak

---

Dynamic Neuromuscular Stabilization (DNS) Rehabilitation
Dynamic neuromuscular stabilization is a type of rehabilitation that emphasizes core stabilization and intra-abdominal pressure. Ideal for the active/ athletic population For more information please use link: https://www.rehabps.com/REHABILITATION/Home.html

---
McKenzie Method

The McKenzie Method Is an assessment, diagnosis and treatment tool that uses repetitive motion exercises to eliminate symptoms and restore full function of the patient. This Method empowers the patient to self-treat and incorporate preventative care in everyday life. This method treats all musculoskeletal problems especially radiating pain and numbness into the upper and lower extremities including sciatica. For more information here is a link: http://www.mckenzieinstituteusa.org/method-patient...

---

Flexion Distraction Technique
Flexion Distraction is a gentle non-force adjustment that is used for overall spinal health. This technique uses a special table that can be automated or manually controlled by the doctor. This technique allows the doctor to mobilize specific areas of the spine to promote an increase in disc height and a therapeutic stretch of the spinal musculature. Used for many types of pain including post-surgical depending on the case. To have a visual of what the treatment is here is a link to a video: https://www.youtube.com/watch?v=-YwWg8RNnOw Please note that the table at NEMO Chiropractic will have automated and manual flexion and distraction with drops not decompression therapy.
---
Cold Laser Therapy
Cold laser therapy uses low wavelengths of light to heal damaged tissue and relieve pain. It is used for a wide variety of conditions including acute and chronic neck and back pain. For more information go to https://www.erchonia.com/.